Protect your dental infrastructure with our best in class managed antivirus service. Customizability and flexibility is its main speciality. By using our service, you can fully concentrate on your business. Our managed AV services are powered by Bitdefender.
Bitdefender Antivirus :
We Offer Best Security Option in 2015
The #1 ranked antimalware security is now ready with a state-of-the-art multi-tenant management console and simple monthly licensing. Complete antimalware and antivirus protection. Antimalware, web filtering and a fully featured two-way firewall with IDS. Multiple layers of messaging security. Email traffic filtering including attachment and content filtering, antispam, antiphishing, antivirus, and antimalware with behavioral analysis. Leading Antispam detection rates. Bitdefender consistently ranks among the solutions with the best detection rate in Virus Bulletin's VBSpam tests.
Comprehensive solution that protects Windows, Mac and Linux desktops or servers, physical or virtual and with AWS instances and Exchange antimalware managed from the same console as endpoint protection. Optimized Bandwidth Consumption - With the new security relay mechanism, external traffic is minimized by using the local network to distribute updates.
DDS Dental Technology is a MSP partner
based on the total number of computers protected each month.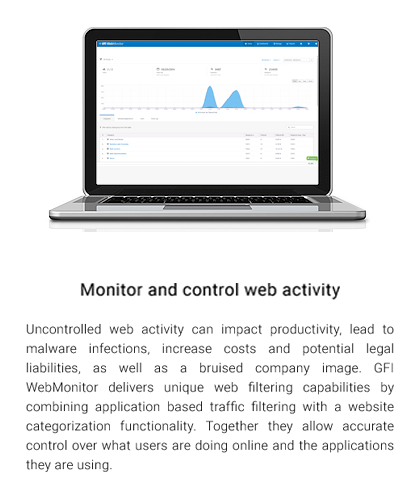 Managed WebMonitor :
Monitor, control and secure Internet usage
With GFI WebMonitor, you can manage your employees' browsing habits and downloads through granular, interactive drill-down reports. Managing access or blocking non work related websites boosts employee productivity, whilst real-time scanning (using up to three antivirus engines) together with malicious URL filtering, prevent malware from being downloaded onto your network. GFI WebMonitor integrates seamlessly to your existing wired or wireless setup and no changes need to be applied to your client machines and mobile devices.

Web categorization :
Reputation-based URL Filtering
GFI WebMonitor allows you to block access to specific websites as well as define web filtering policies, allowing or restricting access to particular categories of websites on a per user, per IP or department basis. You can manage access for websites in categories, such as adult material, online gaming, personal email, travel websites, P2P, social networks such as Facebook, Twitter, YouTube and many others. GFI WebMonitor features WebGrade™ that provides URL coverage for more than 460,000,000 domains and is updated every day.